Tapered chisel bit
Tapered chisel bits is suitable for mining of black metal mines(such as iron mine/ manganese ore), nonferrous metal mine(such as gold/silver/copper ore), marble and granite etc.Its drilling depth usually is 15m-18m in case of hardness grade F8-14. Chisel is more suitable for hard rock drilling.
It is widely used in drilling holes with a depth size less than 5 meters and diameter scope in 20-45 mm by light-duty hand hold drills, Like Y6, Y10, Y24, , major use in natural dimensional stone quarry for small hole drilling. All tapered chisel bit are made with high quality of raw material through special heat treatment, The deliver capacity are very strong and can completely meet customer's requirements.
Superdrill could supply two kinds of Chisel Bit, One is Horse Shoe Bits, the other is Oblique chipway chisel bits. We called them, Y1 and Y2(Kindly check below)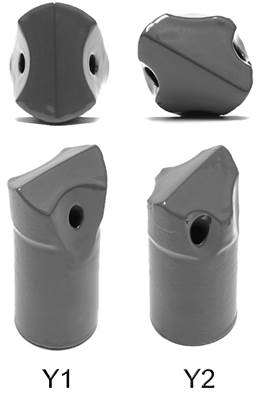 Cemented Tapered Chisel Drill Bits Description :
(1)Connect shank Size: 22mm*108mm, 25mm*108mm
(2)Bit Diameter: Range from 20 to 60mm
(3)Standard Taper: 6 degree, 7 degree, 11 degree, 12 degree.
(4)Material︰40Cr, 42CrMo.
Superdrill could design and produce different drilling bits according to your requirements.
How to order
chisel bits & Cross Bits: Bit Diameter + Taper Degree + Socket Diameter.
Advantage
1, Increased penetration rate
2, Longer service life
3, Lower drilling costs
4, Made from steel and tungsten carbide as same grade as internationally well-known brand

For more details please watch PDF online:Tapered chisel bit Catalogue