Big Hydraulic Rock Splitter for Excavator
Non Vibration Rock Breaking Method by Superdrill Rock splitter uses the multiple hydraulic pistons push the rock toward the free face side.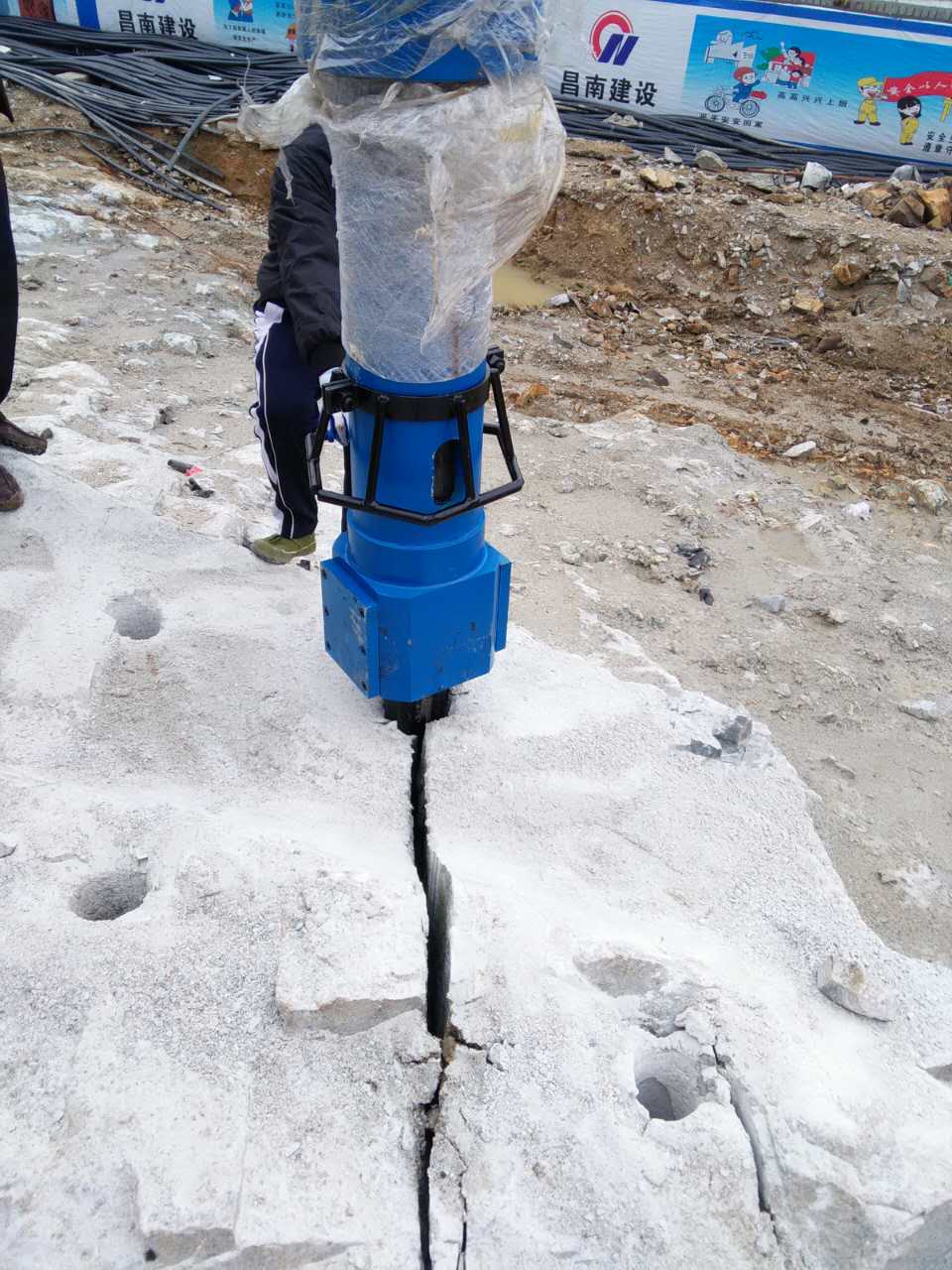 SPECIFICATIONS

MODEL

HOLE DIAMETER (mm)

DEPTH HOLE (mm)

EFFECT LENGTH EXTERNAL WEDGE (mm)

MIDDLE WEDGE OUT (mm)

REAL FORCE (T)

WEIGHT (Kg)

CYLINDER LENGTH (m)

SPLITTING WIDTH (mm)

HIDRAULIC PRESSURE (Mpa)

SD200

90,102,105

1450

750

1500

1800

520

2.9

35

24

1650

1000

1750

2100

550

3.15

30

SD220

90,102,105

1450

750

1500

2100

620

2.9

35

24

1650

1000

1750

2300

650

3.15

30

SDN50

90,102,105

1450

750

1500

2600

840

2.9

40

24-35

1850

1200

1950

2600-4300

880

35

Work process
Drill the hole of which diameter is bigger than 80mmØ and 1~3 meter deep by crawler drill or leg drill.
Put the power cylinders into the holes and then push the rock toward the free face side.
Totally 1,000~ 1,400 ton power pushes the rock for 2-4 minute and then the rock will be split.
Application
On sites where there is a restriction or ban on the use of hydraulic impact hammers or conventional blasting methods.
In downtown core areas where there are by laws regarding noise and dust pollution.
Job sites near to electrical supplies, gas mains, water mains, or other services that can be adversely affected by vibration and fly rock.
Under, in, or beside historic buildings, that can be damaged by less controlled methods.
Excavating narrow trenches in rock, or concrete, dedicated to service lines such as gas, electricity, water and sewage.
Characteristics
Vibration free, noise free
Convenient Operation
High Efficiency
Low cost of rock breaking and maintenance
Versatile usage

1.Safety:
Hydraulic splitter work under the statically hydraulic environment can be controlled, it will not bring any dangerous compare to explosion, impact demolition.
2.Environmental protection:
When hydraulic splitter is working, it will not give vibration, impact, noise and dust, no any affect to surrounding environment. It works interference-free even indoor, in densely populated area or beside other equipments.
3.Economical:
Hydraulic splitter can be continuous working to complete splitting process in several seconds, the cost of function and maintenance is very low, extremely effective and economical.
4.Operation:
Easy to learn and use, only one people can operation; hydraulic splitter has long working life, convenient maintenance, the splitters and power station are easy carrying.
5.Accuracy;
It is difference to traditional demolition methods, hydraulic splitter can ensure division direction, shape and size of remove part in advance, thus the division and dismantling are in high precision.
6.Flexibility
Hydraulic splitter is compact, light, high split force, can work convenience indoor or narrow ground, also can work under the water.