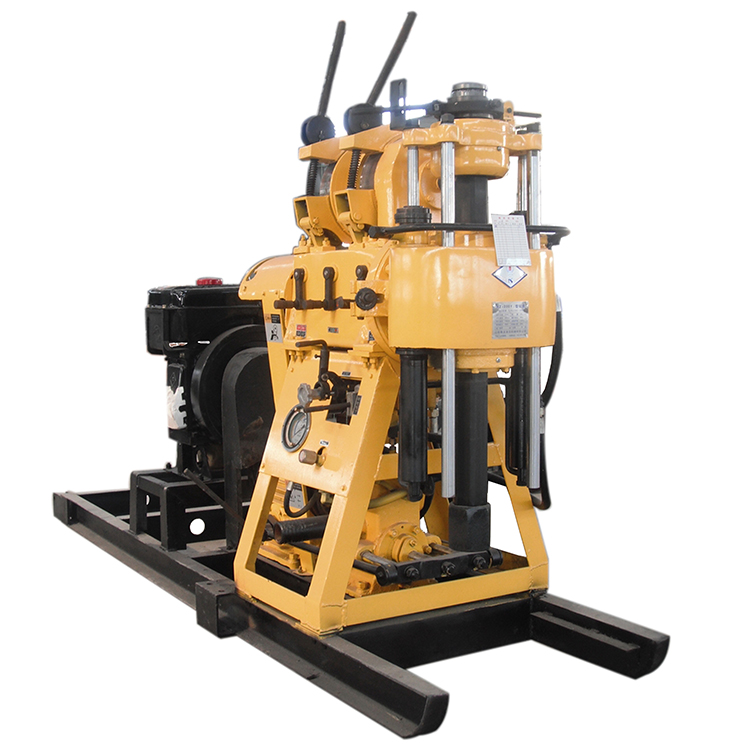 water well drilling machine for rock
1. The winch of the JZ- 200 waterwell drilling rig is matched with the holder to form the doublesides star wheel supporting structure which can bear strong impact2. The spindle box achieves location via four groups of bearings to ensure the gyrator of sufficient rigidity to operate in the complex geological conditions with gravel bed,pebble bed.
3. The cone clutch with national patent technology is equipped to the product. Marked by free maintenance, it can deliver large torque and can be operated conveniently.
4. The water well drilling rig also employs the 53*59 hexagon drive drilling rod which has strong rigidity and can transmit large torque.
Description

Drilling depth

200m

Open hole diameter

75-400mm

End hole diameter

75mm

Active drill rod

53/59*4200mm

Rod diameter

50mm

(seamless steel tube)

Drill angle

90°-75°

Gyrator

Spindle speed

64/128/325/620 r/min

(4 speedadjustable)

Max.Spindle torque

2200N.m

Max.Spindle feed force

40000N

Max.Spindle lifting force

80000N

Spindle stroke

450mm

Engine

Diesel power

22HP(2200r/min)

Pump

Mud pump

BW160
The product is specially used for geological survey exploration, basic exploration for road and highrise building, drilling inspection hole of various of concrete structures, construction for dyke and dam of the river, subgrade grouting hole drilling and direct grouting, civil well drilling, ground temperature central airconditioning construction, etc.